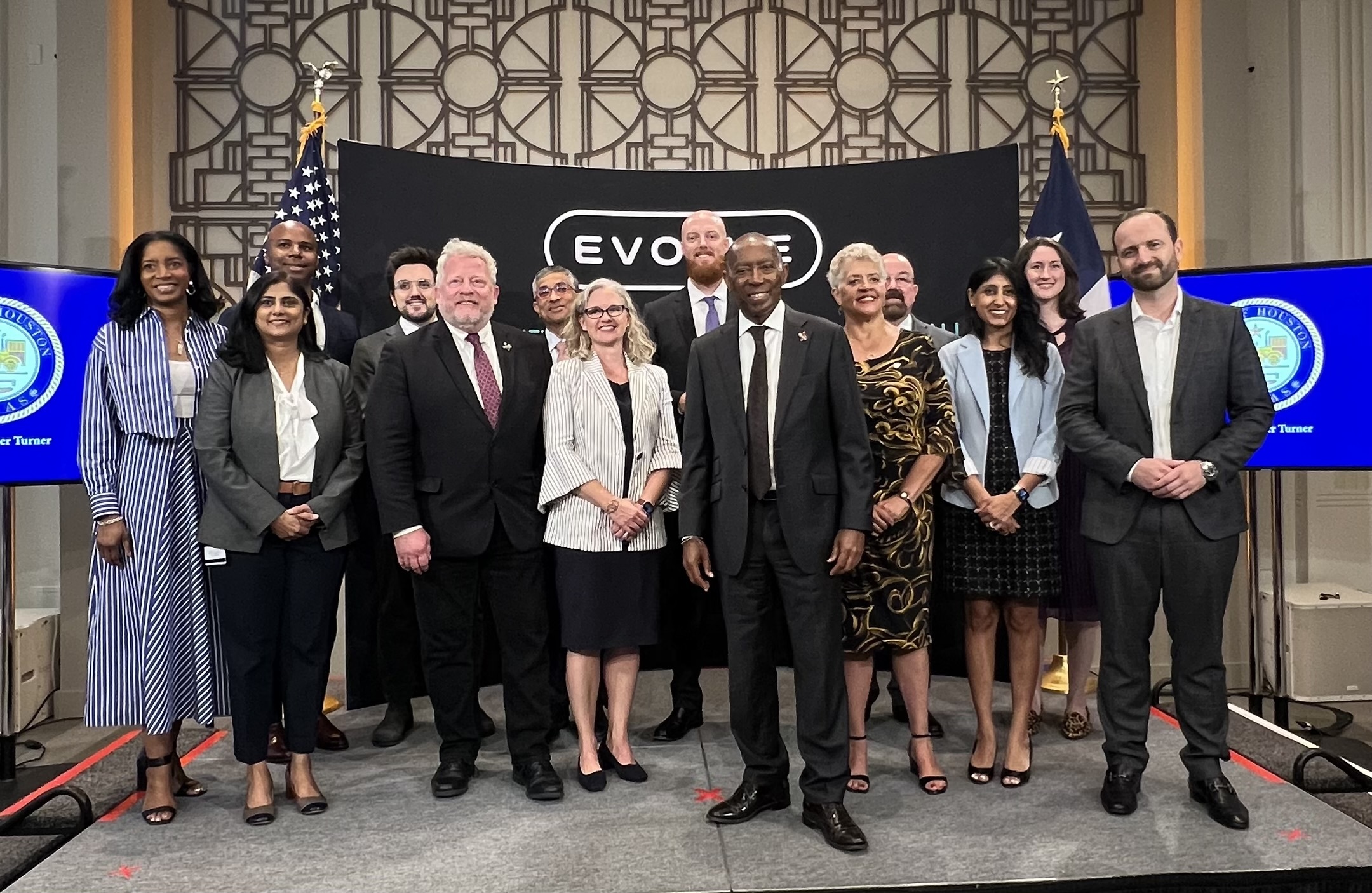 Nearly one year after launching the first round of the eMobility Microgrants Initiative, Evolve Houston Executive Director and President, Casey Brown, and Houston Mayor Sylvester Turner hosted a press conference at City Hall on Thursday, August 24, 2023, to recognize the Round 1 grant winners and to formally announce that applications for Round 2 of the initiative are now open.
Through Evolve Houston's equity program, the microgrants awarded range between $10,000 and $15,000, were granted to 13 community organizations who proposed electric vehicle, micromobility, and charging infrastructure related projects aimed to tackle community mobility needs in historically underserved neighborhoods in Houston.
The initiative to achieve equity in the EV space had multiple stakeholders, including Community Champions, community leaders and representatives assembled to review and select innovative projects aligned with both community needs/priorities and Evolve Houston's mission to improve air quality and reduce greenhouse gases making Greater Houston a greener place for Texans.
With the common goal to accelerate electric vehicle adoption to where half of all new vehicles sold in the Greater Houston Area would be EVs by 2030, Founding Members Shell, CenterPoint Energy, NRG Energy, the University of Houston, and the City of Houston formed a public-private partnership to found Evolve Houston in 2019. General Motors (GM) and bp America joined the initiative as Corporate Catalysts by providing initiative-specific funding.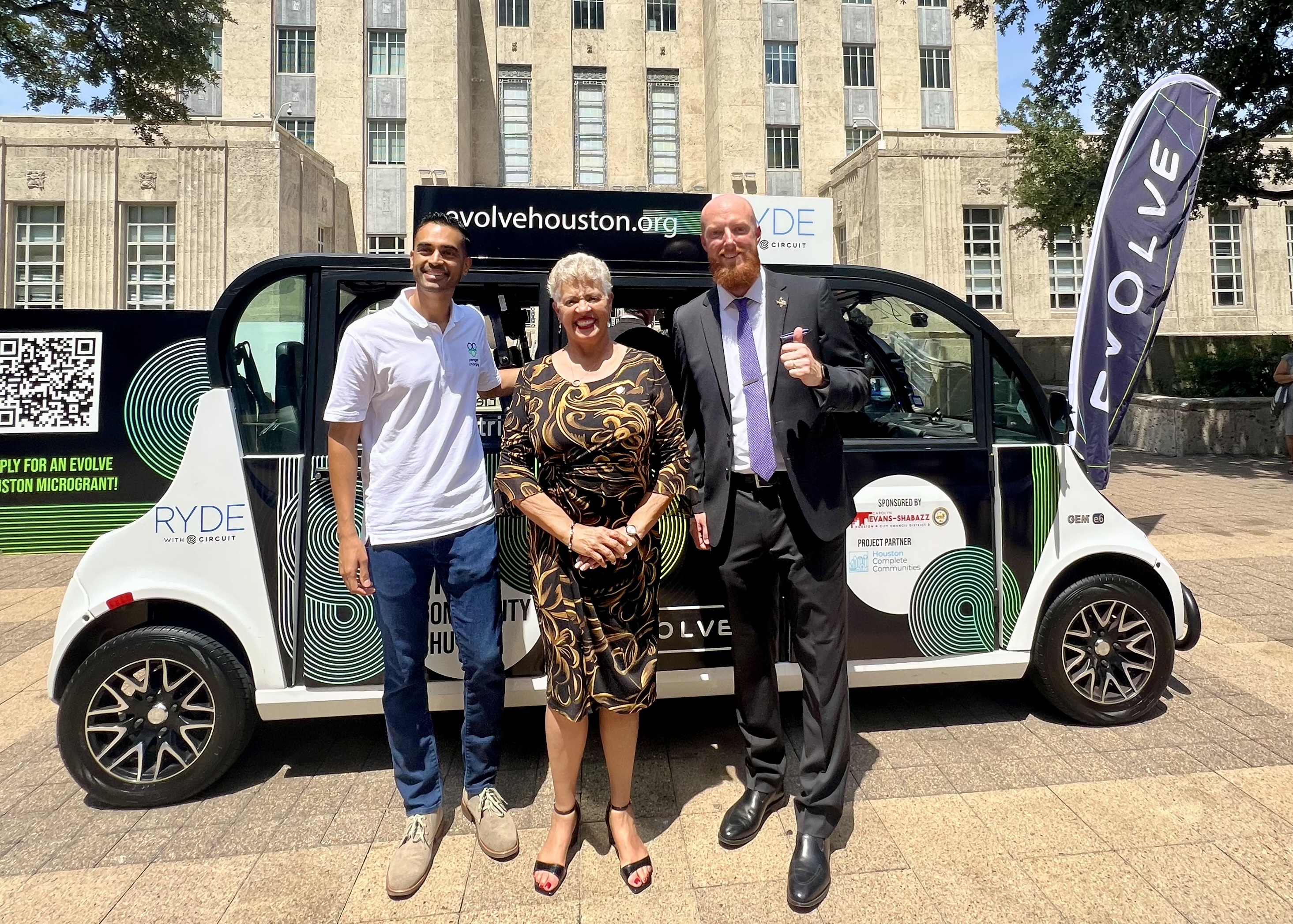 Congratulations again to our Round 1 winners for joining the charge to reduce greenhouse gas emissions in Houston. Winners of the Round 1 eMobility Microgrants are:
Alliance for Multicultural Community Services – Youth advocacy and a charging station for the Gulfton area
Third Ward Real Estate Council & Northern Third Ward Neighborhood Implementation Project – Inclusion of an interactive "mobility hub" to illustrate how various forms of electric transportation and EV infrastructure can function in the Third Ward as part of a larger community development initiative through real estate
Coalition of Community Organizations - eBikes and a charging station in the Fifth Ward
Edison Arts Foundation: EV charging station installation and green energy awareness at the Edison Center, a community revitalization project in Fort Bend
GROW – EV education and outreach events promoting green energy careers youth in underserved communities
Hiram Clarke Fort Bend Houston Redevelopment Authority - Bike share program in Southwest Houston - a tool to increase Multi-Modal transportation options in Southwest Houston and while providing additional options to explore parks and trails.
Houston Southeast – Expansion of its existing rideshare program. In partnership with Uber, using their fleet of electric vehicles, the District offered free and reduced rides as a solution to mitigate parking congestion while improving public safety and access in, through and around the District.

Pangea Charging – One EV charger in two Complete Communities apartment complexes/buildings
RYDE – Free microtransit service in the Third Ward. Two electric shuttles, 1,000+ passengers per month
Shawn R. Owens – Electric Eats – eBike food delivery service from the Third Ward food pantries to its' senior, underserved, and immobile citizens.
South Union Community Development Corporation – Workforce development for green energy careers.
The Reflections of Christ's Kingdom (The R.O.C.K.) Church – BroadwayCampus - DC-Fast charger in South Houston/Hobby Airport area
University of Houston-Downtown – No-cost EV charging station installation on campus
With Round 2 of the of the eMobility Microgrants initiative now officially open, anyone who is interested in applying is encouraged to do so by visiting apply.evolvehouston.org. Additionally, Evolve Houston will host virtual information sessions for those interested in learning more and applying. Information session registration links will be provided soon on apply.evolvehouston.org. The deadline to submit your project application is Friday, September 22, 2023.
If you are interested in providing financial support for the initiative, please contact [email protected] to learn more about how your investment can generate impact in the Greater Houston region through the eMobility Microgrant Initiative.