HOUSTON, TX – On the first day of the 2022 Houston Auto Show, Evolve Houston pulled back the curtain and revealed its new logo and motto: "Let's achieve zero emissions together, y'all." The new logo represents Evolve Houston's dedication and ambition to advance clean transportation, reduce greenhouse gas emissions and improve air quality within the Houston region.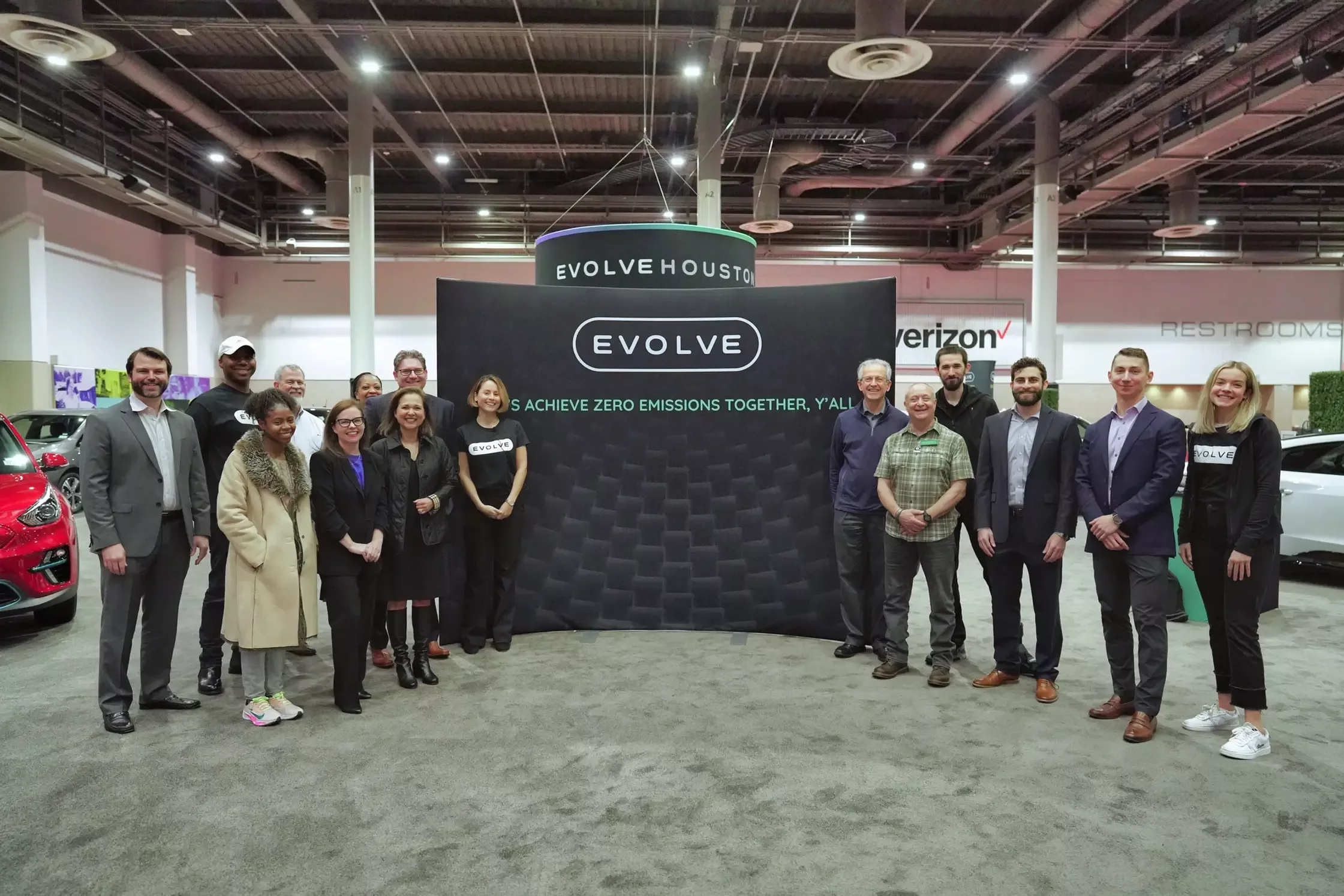 Evolve Houston is a nonprofit organization focused on leading the emerging eMobility ecosystem within Houston by promoting electric vehicle adoption and education. The new Evolve Houston aims to present a more lively and exciting perspective on electric transportation, to be the voice of Houston's story of going all-electric, and to amplify the voices of the eMobility network.

The new logo implements softer, rounder shapes to illustrate the organization's commitment to promote inclusivity and collaboration in eMobility to collectively improve the quality of life for all Houstonians. The black text and visual language of this logo also convey a bolder and more inspiring Evolve Houston, focused on leading Houston into the future of transportation.

"This new logo is a symbol for both Evolve Houston's continued commitment to sustainable transportation, and our dedication to the residents of Houston. This is about improving air quality and overall quality of life for all Houstonians, and to do so it's important for Evolve Houston and electric transportation to become an inclusive space for all residents. We are energized by our current momentum, but we recognize that this isn't a time for complacency, and that's why we can't wait for our full new brand and website reveal later this spring." Katheryn Abou-Chakra, Director of Marketing and Memberships.

In addition to an all-new logo, Evolve Houston announced that it will officially launch its new website and EV roadmap this spring.

"Evolve Houston has been a critical component in driving goals in the Houston Climate Action Plan. Since its creation, Evolve Houston has been a catalyst for creating a more resilient and sustainable city. With this reminder of Evolve Houston's commitment to transportation electrification, the City of Houston is ready to rise above the rest and set the global standard for equitable, sustainable, and emissions-free transportation," said Mayor Sylvester Turner.

Mauricio Gutierrez, CEO of NRG Energy expressed his excitement, "By lowering the barriers facing consumers and promoting the benefits of electric vehicles, organizations like Evolve Houston are playing a significant role in decarbonizing Houston to create a more sustainable economy and improved quality of life for the region."

"Reducing greenhouse gas emissions requires partnership across multiple sectors, and Evolve Houston continues to be a great example of how public-private partnerships bring truly meaningful results to support a cleaner energy future. I am excited about the progress the team at Evolve Houston has made, and look forward to our continued collaboration," stated Gretchen Watkins, President of Shell Oil Company.

"CenterPoint Energy is proud to continue our collaboration with Evolve Houston and the founding members of the organization. Evolve Houston helps unite the business community, governmental entities, academia and other key stakeholders to advance environmental stewardship by promoting clean transportation in all of the communities we serve for the benefit of Houstonians," said Elizabeth Gonzalez Brock Vice President of Energy Solutions at CenterPoint Energy.

"The University of Houston is truly the Energy University – 40% of UH students pursue energy related degrees, and we sit at the heart of the energy capital of the world. As such, UH has the responsibility to lead by example in shifting the energy landscape, and Evolve Houston plays a key role in that effort. Organizations like Evolve, enhance UH research, allowing us to focus on energy and environmental sustainability," stated Dr. Renu Khator President of University of Houston.

Watch our Director of Marketing and Memberships, Katheryn Abou-Chakra give a statement about our new brand below.