Back and better than ever, Evolve Houston had an incredible time at the 2022 Houston Auto Show with our third annual EV Showroom!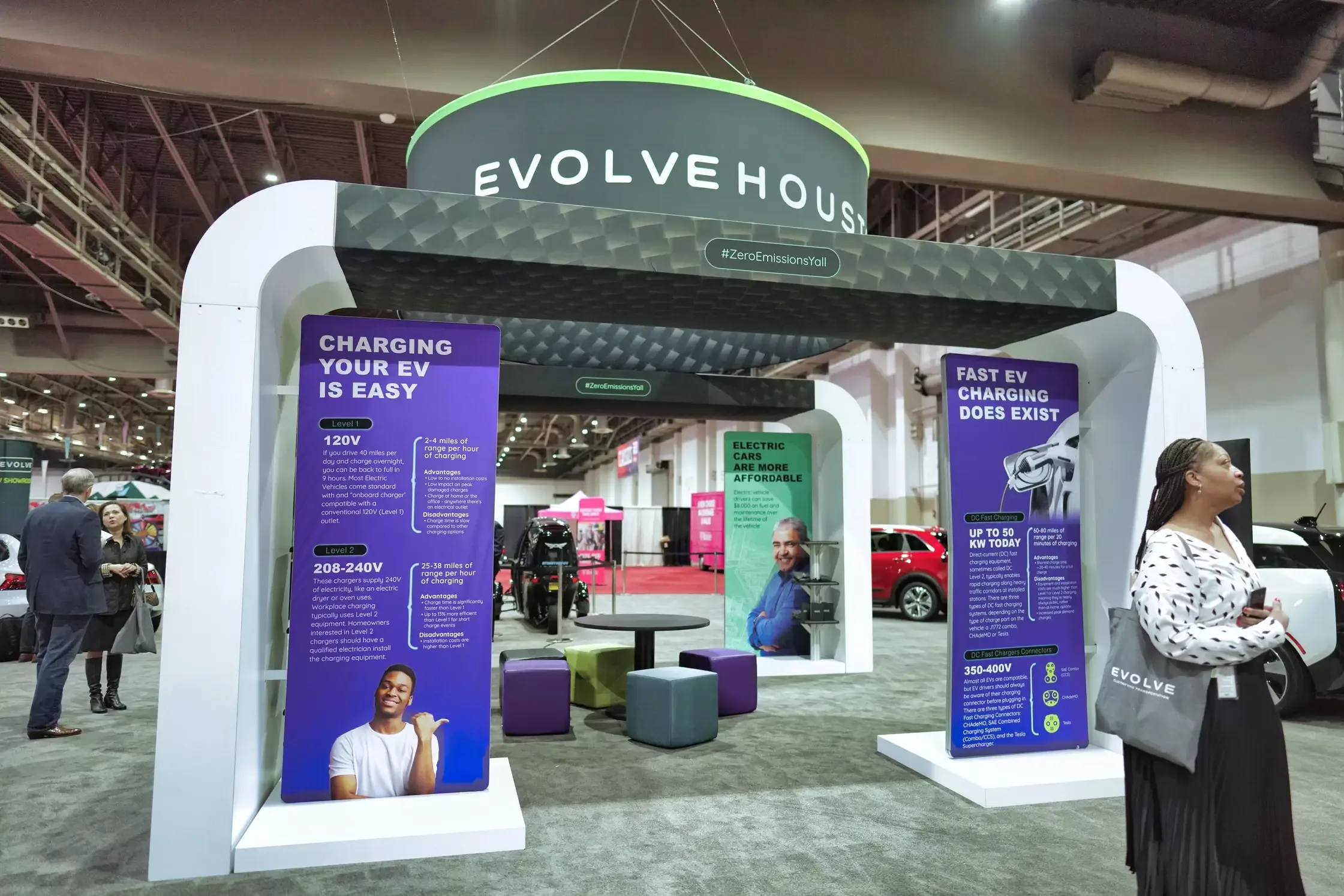 Our EV Showroom allowed attendees to get up close in personal with some top EV models like the Audi e-tron GT, BMW i3, Kia Niro, Nissan LEAF, Chevrolet Bolt, and the Arcimoto. We had the opportunity to also showcase electric fleet vehicles from NRG Energy and the City of Houston. This year, the Houston Auto Show featured many electric vehicles across the floor like the Ford F-150 Lightning, Nissan ARIYA, Kia EV6, Hyundai Ioniq, VW ID.4, just to name a few.

It was amazing to talk to so many people about the future of EVs and dive into some of the industry's hottest topics like upcoming EV models, charging infrastructure, purchase incentives, and more. We received over 240 survey responses about Houstonians' perspectives on the EV industry. The Evolve team was excited by respondents' enthusiasm for EVs with over 65% of respondents indicating they would consider purchasing an EV as their next vehicle.

Similar to last year's Auto Show's survey results, respondents' primary EV purchasing considerations continue to be battery range, charging infrastructure, and price. The vast majority of respondents consider EVs safe and reliable with only 2% of respondents citing safety and reliability as a concern when purchasing an EV. We're eager to see how consumer priorities change in the coming years with greater EV investments from the Biden Administration. To fund the EV charging infrastructure across the U.S., Biden announced $5 billion will be distributed with $400 million being allocated towards Texas.

We were fortunate to have the opportunity to engage with a diverse range of perspectives on EVs. From talking to EV owners about their own experiences to discussing the EV lifestyle and industry trends with the EV-curious, to dispelling myths with the EV-cautious, we were able to explore such a wide variety of exciting EV conversations.

"The turnout and experience at this year's Auto Show really inspired our whole team and reminded us why our work at Evolve Houston is so rewarding," said Evolve's Director of Marketing & Memberships, Katheryn Abou-Chakra. "Connecting directly with Houstonians about the benefits of EVs and the positive impact they can bring to our region energized us as we prepare for more EV events in 2022."

"Working with the Evolve Houston electric vehicle display at the 2022 Houston Auto Show was a real eye-opener. Consumer interest in EVs has really accelerated over the past year!" said Buzz Smith, The EV-angelist. "Many individuals working in oil & gas shared with me that their next pickup or SUV would be electric. I've always thought electric pickups would be the turning point but talk about fast cornering. This is happening faster than even I imagined!"

Thank you to the Houston Automobile Dealers Association (HADA), Houston Electric Auto Association (HEAA), and Buzz Smith "The EVangelist" for enhancing our 2022 EV showroom. Thank you to everyone who joined us at the Houston Auto Show this year.
Evolve is looking forward to continuing the electric vehicle revolution in Houston. Let's achieve zero emissions together, y'all!