EVolve Houston launched one year ago on October 11th, 2019. Today, we reflect on what an inspiring, challenging and rewarding year it's been. In just the first few months of the year, our understanding of "normal" shifted in ways we could never imagine; little did we know what the remainder of the year had in store. During this challenging time, however, the EVolve Houston team not only persevered with our own milestones, but worked closely with our community to make our region better.

In this process, EVolve Houston was honored to receive the Smart Energy Decisions "Accelerate Houston" Leadership Award. We are incredibly grateful and proud of what we've been able to accomplish together in the great city of Houston. None of this would have been possible without our founding members -- The City of Houston, NRG Energy, CenterPoint Energy, Shell, and the University of Houston, our partners, and all of our supporters that have joined us on our journey to electrify transportation in the Energy Capital.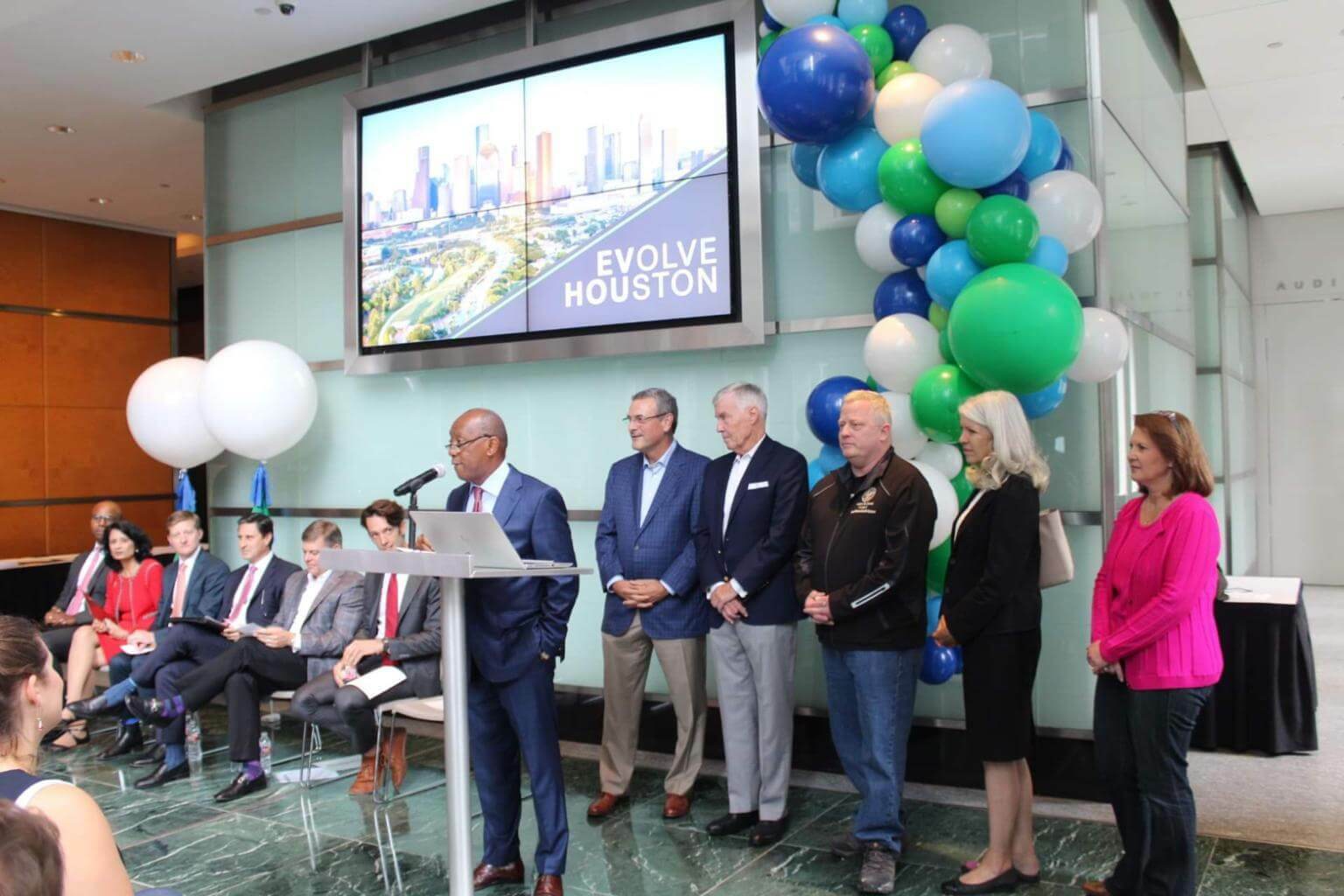 A Year in Raising Awareness.
EV adoption increases as awareness and familiarization rises. This past year, EVolve Houston has worked to inform Houstonians of the benefits EVs have to offer. In November, we held our first Fleet Electrification Workshop designed to help fleet managers, suppliers, and other commercial stakeholders learn about electric vehicle conversion, hear experiences about converting fleets to electric vehicles, and connect with electric vehicle and EV supply equipment providers. With over 60 organizations represented in attendance, the sold out event marked the start of EVolve Houston's workshop series focusing on industry-specific transportation electrification topics.
During the 2020 Houston Auto Show, EVolve Houston presented Houston's first all-electric exhibition space. EVolve Houston also partnered with Tesla and Chevrolet to organize ride & drive campaigns. The two campaigns offered great incentives to Houstonians to sign up for EV test drives. We focused on showing participants how fun it is to drive an EV while also educating them on the benefits of owning an electric vehicle. The Chevrolet Bolt EV campaign is still active, through November 1, 2020. Register here for a Bolt EV test drive to receive a $50 gift card to select retail stores!
Lastly, our team participated in over six panels and interviews over the course of the year, joining conversations on how Houston is furthering EV adoption and advocating for the positive impact EVs have on climate stability and air quality.

Some of our media features include: Forbes, Smart City Dive, Governing.com, the Houston Chronicle, Innovation Map, Intelligent Transport, GovTech, and The Environmental Defense Fund.

A Year in Commercialization & Infrastructure.
The team at EVolve Houston was proud to support the City of Houston in releasing an RFI earlier this year. The RFI called for a community-wide strategy for publicly-accessible electric vehicle support equipment and City-owned fleets. It received an overwhelming amount of responses and we are continuing to work with the City to review them.

A Year in Policy.
EVolve Houston joined a national coalition of 14 states to support a $150B federal stimulus for transportation electrification, job creation, and innovation. This investment in zero emissions infrastructure could create 2.3 million new jobs across the U.S., improve air quality, protect public health, and help the U.S. lead the world in clean energy and mobility manufacturing.

Just this past month, our team launched the EV Grants Guide tool on the EVolve Houston website, which allows users to track and filter available grants in the Houston area. We made this tool available free of charge and hope it will simplify the grants application process.

A Year in EV news.
We have been delightfully sharing the latest EV news every Friday since October 25, 2019, making this Friday's newsletter our 50th! We'd like to recognize how Houston has continued to adopt EVs and summarize the past year's developments.
We were there when the City of Houston committed to purchasing 100% renewable energy, as well as, releasing the Climate Action Plan that calls for electrification, climate resilience, and leading the global energy transition. This was just the beginning for the Houston area and Texas. In June, the Port of Houston purchased five Chevrolet Bolt EVs and three EV charging stations. Woodlands-based Waste Connections purchased two electric garbage trucks from Lion Electric. Nuro, a Silicon Valley start-up, began road-testing the Nuro R2, a driverless electric vehicle on Houston streets. And last but not least, Tesla selected Texas for its new Gigafactory.

We'd also like to highlight local EV advocates. Anup Parikh, an EV enthusiast, launched his YouTube channel: The Fast and The Curious last year and since then has posted 3 EV informational videos. Anup was inspired to launch his channel to bring attention to climate-change and electric vehicles. Him and his team wrapped the shooting of a second episode for the Entrepreneurs in EVs segment, which will feature an interview with an EV-company based out of Southern California. Subscribe to Parikh's channel to be notified of when the episode airs!

The Houston Electric Auto Association continues to host monthly virtual meetings to discuss everything and anything electric. They have hosted speakers from Lion Electric, Kandi America, Proterra and more. Their next meeting on Nov 2, 2020 will highlight battery development and electric airplanes.

Lastly, Buzz Smith, the "EV-angelist of Houston" went on an EV Texas adventure with his wife Bonnie in their Chevrolet Bolt EV! The four days consisted of camping, kayaking, swimming, hiking, bicycling, photography and of course Texas barbecue!

A Year with the EVolve Houston team.
And finally, we'd like to share some personal stories and developments from the EVolve Houston team!

Chris George, President and Executive Director, purchased a brand new plug-in minivan! Chris and his family needed the extra space as they welcomed a beautiful baby girl just this past month. Chris was also appointed to the Houston Parks Board and the Transportation Air Quality Subcommittee.

Ryan Martin, Managing Partner, has gone 100% electric by recently adding a second EV to the Martin household. The past year, Ryan and his wife Elizabeth have taken the time to focus inward by enjoying their home space and focusing on wellness.

Jan Maceczek, Operations Director, took advantage of his time working remotely from Washington, D.C. by learning to make the perfect espresso, running on the National Mall, and tuning his digital visualization skills on Creative Cloud and arcGIS.

Katheryn "Kate" Abou-Chakra, Program Manager, joined the EVolve Houston team in April and moved to Houston, TX all the way from Toronto, Canada! Kate was recently appointed to the Houston Clean City Board of Directors.

Michael Conklin, Advisor, continues to advocate for electric vehicles within Texas. Michael and his wife, Shannon, launched EVTX earlier this year, a start-up focusing on EV market intelligence and program development for the Texas region. Lastly, Michael was appointed to the Transportation Air Quality Subcommittee, alongside Chris.

Ayush Krishnamoorti, Marketing Intern, has continued supporting EVolve Houston efforts across all programs over the past year. Ayush began his studies at Stanford University this past September while he continues to support EVolve Houston part-time.
We look forward to another incredible year. Thank you again to all our founding members, partners and supporters.

Thank you all for a great year,
- The EVolve Houston Team